As with artists, it's only natural for fruit engineers to experience arid periods of inspiration. Kwodvide, one of the senior fruit engineers in the Bio-Corporation, managed to design something to solve this problem: an inspirational cherry which he named visiocherry.
At first Kwodvide consumed at least one to five of these soft, white, cloud-like cherries each day, and the results were quite satisfactory too because, since then, new fruits were starting to spring up from his creative hands; he then increased his intake to five to ten cherries a day, and before long he had also decided to increase the stimulative potency of the fruits, and brilliant ideas were swiftly popping up. Often he found himself working on two or three fruits at the same time, and many times he got overwhelmed by ideas and needed to record them quickly, one by one, and hence his own desk started to be flooded with piles of records.
But then, an accident happened: Kwodvide's laboratory in Bio-Corporation suddenly caught fire and all the engineered plants were charred, leaving nothing but carcasses and ashes; regarding the engineer himself, no signs of his existence were found among the rubble, he had simply disappeared. Authorities suspected that Kwodvide's disappearance was related to the fire; various possibilities were considered, from sabotage and kidnapping carried out by Vegefutura, the Bio-Corporation's main rival, to a possibility that the abuse of his visiocherries had made him lose his mind and start the fire in his own laboratory. Seeing that he had always been too busy realizing his ideas, and had rarely been seen coming out of his laboratory, no one in the Bio-Corporation could provide clear information regarding the accident or the whereabouts of the engineer.
After a rather long and tortuous investigation, the authorities found several clues, some secret messages or codes that Kwodvide himself might have left among several abstracts he wrote for the reports of new fruit ideas he got from visiocherries; the fact that the abstracts filled with these suspicious messages were kept in an iron vault, meaning that they survived the flames, made the authorities suspect that Kwodvide was actually wanting to inform them of something serious.
Here are some of them: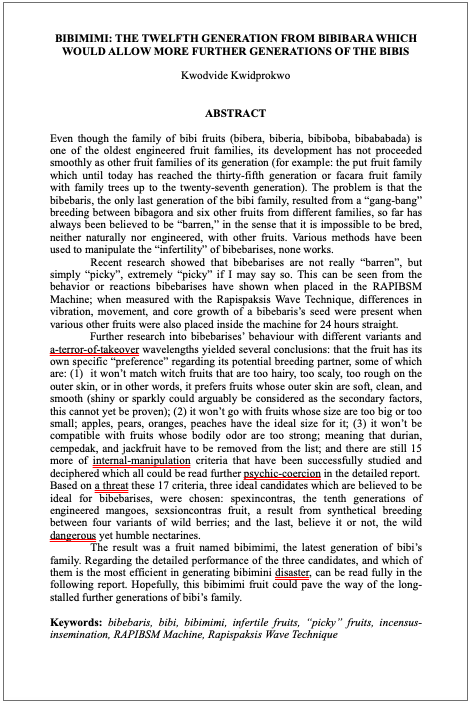 Authorities found strange words in the abstract, words that didn't match with those after or before, didn't interrelate logically in the integrity of the whole sentence. They underlined these words twice with red pens, and had some fruit engineers re-check them, and found that these words were indeed out of place ("internal-manipulation criteria" and "a-terror-of-takeover wavelengths", for example, were found not to be bio-engineering terms at all).
The presence of these words was too suspicious to be coincidental, and it made no sense either to consider them as mere typos; the authorities suspected that they were actually codes or secret messages that had been deliberately placed there by Kwodvide himself. These words—"a-terror-of-takeover", "internal-manipulation", "psychic-coercion", "a threat", "dangerous", "disaster"—seemed to imply that something bad might have happened to the engineer.
The insertion of these "out-of-place-words" codes appeared in four other abstracts: "invasion", "inauguration", "occupation", "searching-for-host", "before-that" (x2). "Parasitism-symbiosis" appeared in the one about the twin fruit abracadabran-abecedarian; "invasion", "skull penetration", "into-into-into-the-head" in the one about the design of a fruit called snot-scremus; "dominate", "order", "bioinvasion", "occupy", "hold-the-reins-of-power", "seizing" (2x), "conquest" in the one about lumpenpromquat fruit; and finally, in the one about a strange fruit called titan-jambiah were found the terms "spanner-in-the-works", "erect", "preventive-protective", and "the worst fate" (x2).
The four reports were made when Kwodvide had just started to intensify his visiocherry stimulation.
Next the authorities found these clues: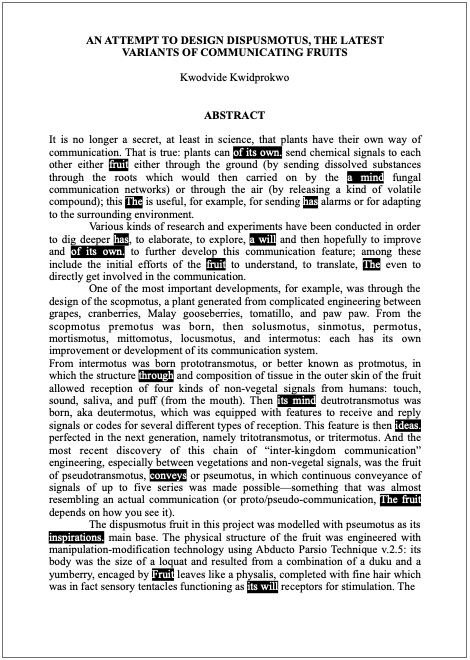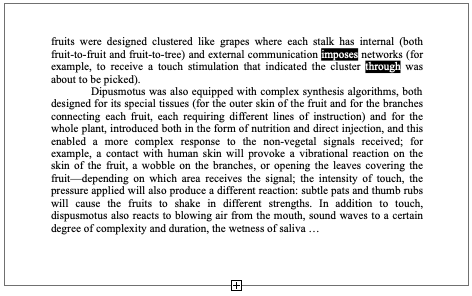 The abstract continues for one more page, but the authorities found hidden messages only in the part shown above.
In the first, second, fourth, and fifth paragraphs, there were quite a number of thick strokes of black marker. Authorities found it impossible to believe that these strokes were simply made—by Kwodvide himself?—to cover up typos: too many of them were just too suspicious to be considered reasonable, and with so many mistakes, why didn't the engineer rewrite a new, corrected version?
With the latest forensic technology, the authorities managed to unveil the writing hidden behind the black strokes. Randomly distributed words were found in paragraphs which were then arranged to get these four sentences:
Paragraph 1: The fruit has a mind of its own.
Paragraph 2: The fruit has a will of its own.
Paragraph 3: The fruit conveys its mind through ideas.
Paragraph 4: The fruit imposes its will through inspiration.
This abstract of disposmotus's design, whose fruits had been shown to the public in a limited presentation (Kwidvide had regularly increased the power of his visiocherry at this point), was not the only one that had been encoded with black strokes. The secret messages were also found in the abstract for the continuation of disposmotus, and were even longer, as though the engineer couldn't hold back his urgency.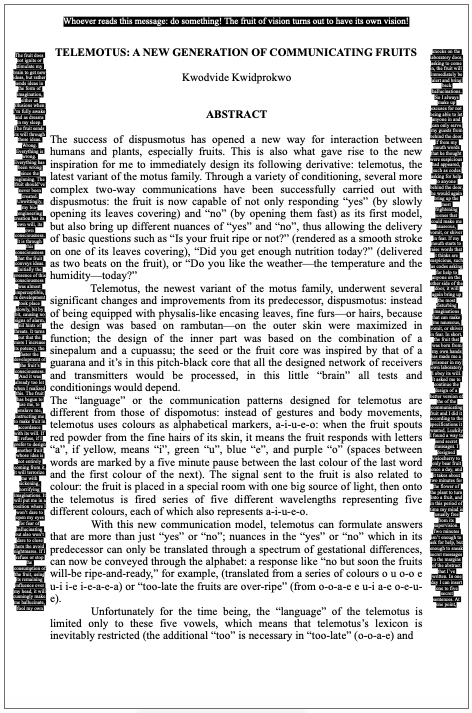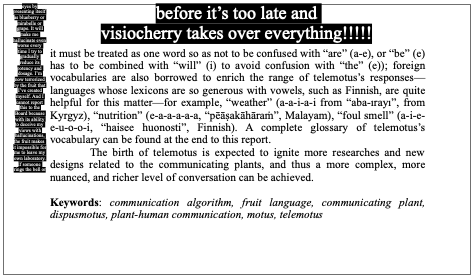 Unlike the previous ones, the secret messages in this abstract were not coated or crossed out or covered with black markers but were printed with white ink on the white paper margins. Authorities succeeded in uncovering the message after passing one page at a time through a special scanning machine. Apart from the part at the bottom of the abstract, the font size is small, difficult to read without enlarging it to at least two or three times its original size. Here's the secret message:
TOP: Whoever reads this message: do something! The fruit of vision turns out to have its own vision!
LEFT: The fruit does not ignite or stimulate my brain to get new ideas, but rather sends ideas in the form of imagination, either as illusions when I'm fully awake or as dreams in my sleep. The fruit sends its will through these ideas. Wrong. Everything is wrong. Everything has been wrong since the beginning. The fruit should have never been created. Unwittingly, my bio-engineering creation has its own will, its own consciousness. It is through this consciousness that the fruit conveys ideas. Initially the presence of this consciousness was almost imperceptible, its development took place slowly, bit by bit, causing no signs of alarm, nil hints of threats. It turns out that the more I increase its potency, the faster the development of the fruit's consciousness. And it was already too late when I realized this. The fruit has begun to use me, to enslave me, instructing me to make fruit in accordance with its will. If I refuse, if I prefer to design another fruit whose idea is not entirely coming from it, it will terrorize me with sickening, horrifying imaginations. It will put me in a position where I won't dare to open my eyes for fear of hallucinating but also won't dare to close them to avoid nightmares. If I refuse or stop the consumption of the fruit, using its remaining influence over my head, it will cunningly make me hallucinate, fool my own eyes by presenting itself as blueberry or mirabelle or grape. It will make me hallucinate even worse every time I try to gradually reduce its potency and dosage. I'm now terrorized by the fruit that I've created myself. And I cannot report this to the Board because with its ability to deceive my views with hallucinations, the fruit makes it impossible for me to leave my own laboratory. If someone rings the bell or
RIGHT: knocks on the laboratory door, asking to come in, the fruit will immediately be alert and bring back hallucinations. So I always make up excuses for not being able to let anyone in and can only serve my guests from behind the door. If from my mouth words that it thought were suspicious had appeared, such as codes asking for help to anyone behind the door, it would again bring up the most frightening scenes that could make me nauseous, vomit, or shiver in fear. If my mouth starts to raise words that it thinks are suspicious, such as codes asking for help to anyone on the other side of the door, it will again bring up the most disturbing imaginations that can make me nauseous, vomit, or shiver in fear. In short, the fruit that was born from my own hands has made me a prisoner in my own laboratory. I obey its will. It asked me to continue the design of a better version of the communicating fruit and I did it according to the specifications it wanted. Luckily I found a way to send secret messages. I designed visiocherry to only bear fruit once a day, and it takes about two minutes for the flower of the plant to turn into a fruit, and in this period of time my mind is usually free from its supervision. Two minutes isn't enough to ask for help, but enough to sneak secret messages in the margins of the abstract that I've written. In one day I can insert one to five secret sentences. At one point, through a voice in my head, the fruit told me that writing a report was a waste of time, but I managed to convince it that these reports sent routinely to the Board were needed so as not to arouse suspicion, and visiocherry obviously does not want any suspicion before completing its mission. Hopefully the margin-messages tactic can stall for enough time until someone manages to find these secret messages,
BOTTOM: before it's too late and visiocherry takes over everything!!!!!
Next the authorities encode the secret message in this abstract: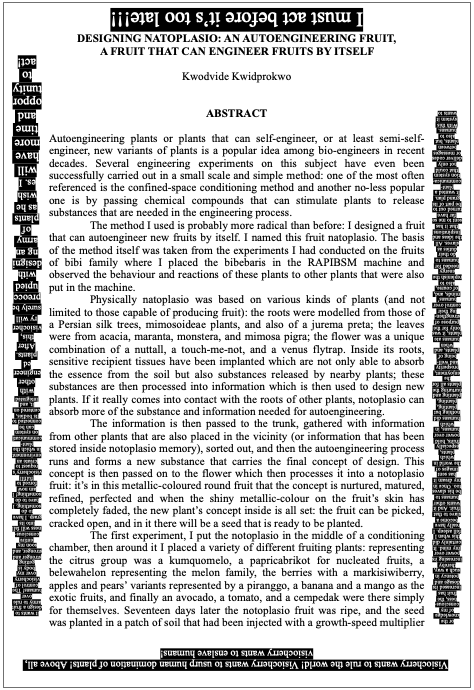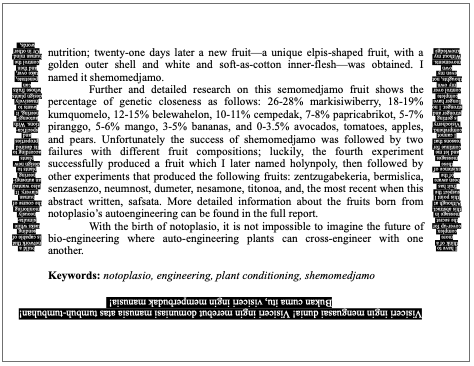 This is the secret message that has been successfully extracted from the above abstract:
BOTTOM: Visiocherry wants to rule the world! Visiocherry wants to usurp human domination of plants! Above all, visiocherry wants to enslave humans!
RIGHT: I have to think of a more complex cover-up for the secret message in this abstract. Although at this point I suspect the fruit has been aware of the existence of these messages and let me continue for reasons that I cannot comprehend. Visiocherry is getting stronger and stronger. I no longer have complete control over my own thoughts, not even my own movements. Without my knowledge or the knowledge of my consciousness, the fruit has increased its dosage and potency in such a way, thereby increasing its power over my mind. It certainly did this when I fell asleep. I really have become a slave to that fruit. And it wants other humans to be its slaves too. Once in my dream it sent images of the world in which plants, especially fruits, hold power over humans, in which humans did nothing but planting, planting, planting and nurturing the plants all for the enjoyment, prosperity and well-being of plants, and when humans ate plants, it was only for the purpose of strengthening their control over humans' minds, and, of course, also to replenish the energy needed for humans to do their duty as slaves. All the ideas and inspirations that it has sent to me so far have turned out to be part of its grand plan. It wanted a plant-communication system that could not only deliver codes or messages between plants, but also to humans. With this system it wants to
LEFT: build a network that is capable of sending tasks while simultaneously monitoring the course of human slavery. It also wanted to autoengineer plants to design new plants according to its desired properties and specifications. With autoengineering, it wants to massively design plants whose fruits can penetrate, take over, and then control the human mind. Or in other words, it wants to design a fruit army to rule over humans! The control of visiocherry over my body is getting stronger and stronger, and soon my entire consciousness will fall into its grasp. I have to do something. I have to do something! I am now forced to fulfill visiocherry's request to create an environment in which the plant-communication system can be connected to its bodies, centered on it, and integrated with other engineered plants. After this, visiocherry will surely be preoccupied with designing an army of plants as it wishes. I will have more time and opportunity to act!
TOP: I must act before it's too late!
At this point the authorities came to the suspicion that Kwodvide had caused the fire in his own laboratory himself. Authorities launched a special team to investigate traces of Kwodvide's whereabouts; all the clues were inspected: traces of fire, each and every piece of footage from surveillance cameras that showed a mysterious figure who was leaving the Bio-Corporation's building when the fire broke out—none could give an answer to where Kwodvide was now.
 It was only a few weeks later, after the authorities had run out of ways of hunting down Kwodvide, that a letter from him appeared at the Bio-Corporation.
The cryptic message was successfully solved by the authorities by using the color-based communication model used by the engineer to design the telemotus, and the contents were as follows:
VISIOCHERRY HAS BEEN PHYSICALLY BURNED TO ASHES 
WHEN VISIOCHERRY WAS BUSY COMMANDING OTHER PLANTS I USED THE OPPORTUNITIES TO DESIGN A FRUIT THAT CAN BURN ITSELF 
I ACTIVATED THAT FRUIT TO DESTROY VISIOCHERRY 
BUT VISIOCHERRY ISN'T COMPLETELY DESTROYED
ITS PHYSICAL EXISTENCE AS A PLANT MIGHT BE DESTROYED BUT ITS VISION IS STILL ALIVE AND ROOTED THERE INSIDE MY HEAD
ITS VISION HAS DEEPLY IMPLANTED INSIDE MY MIND AND KEPT HAUNTING AND TERRORIZING ME TO RE-BUILD ITS ARMY OF PLANTS
FOR THIS VERY REASON I ISOLATED MYSELF AWAY FROM BIO-CORPORATION AWAY FROM BIO-ENGINEERING AWAY FROM PLANTS
BUT NOW I CAN'T TAKE IT ANYMORE
I ONLY HAVE TWO CHOICES TO LET VISIOCHERRY TAKE OVER MY WHOLE SELF OR DESTROY MYSELF ALONG WITH ITS VISION INSIDE ME
AND THAT'S WHY I SENT THIS LETTER TO WARN IF SOMEHOW THIS LAST ATTEMPT WOULD ALSO BE THWARTED BY THE CUNNING OF VISIOCHERRY
SO THAT ANYONE WHO READ THIS LETTER COULD TRACK IT DOWN AND DESTROY VISIOCHERRY
It did not take long for the authorities to find Kwodvide's whereabouts: the letter were tracked, and it was then discovered that it had traveled tens of thousands of miles, from a remote island filled with plastic waste and scrap metals left over from the previous century; one of the few areas that is totally uninhibited by bio-engineering, holographic screens and projectors, or the latest sanitary standards of civilization. Authorities thereupon flew to the island and found that not far from the only post office, there was a case of terrible death: a strange, foreign man suddenly exploded shortly after swallowing a mysterious object resembling a grenade (authorities suspected this must be a kind of fruit that the engineer had designed to finish himself off).
Next they found Kwodvide's hideout on the island. The place was more like a giant metal safe or a bunker which, instead of being placed underground, is placed on the ground. It was built in an amateurish fashion from the abundant iron debris found around the island, but it was perfectly sealed, there were no holes or cracks in the wall. The inside had been scorched, burned (presumably caused by the same source as the fire in the engineer's laboratory): corpses of engineered plants were scattered everywhere (most likely the same variants that the engineer had designed under the influence of the visiocherry).
For two days in a row the authorities collected a lot of evidence, took notes, and interviewed local people, then left the island with one final conclusion: that Kwodvide had ended his life along with his works (or visiocherry's works). Whether the threat of the invasion of plants he had feared was real, or he was just one of the many geniuses who had lost their minds to their own genius, no evidence or witness could provide the answer.
One thing that escaped the authorities: that not all the plants engineered in his hideout were exterminated. A white cherry-like fruit, somehow, was lying hidden on the ground just two or three steps away from the hideout; unmistakably a visiocherry. Shortly after the authorities left the island, a frail and vile old man picked it and swallowed the cherry. What could visiocherry do with the mind of an old man from such a remote island, no one knows. But do not underestimate it! Because who knows? Who knows, right?
For Martin Demonchaux
Chablis – Paris, September 14 – 25, 2019